Our Services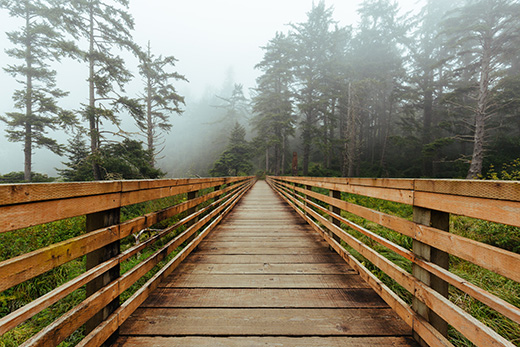 As a fully licensed and equipped optometric practice, North Coast Eye Care offers a complete range of eye care services to all our patients.
Whether the eye care issue involves correcting refractive errors with eyeglass or contact lenses, helping a student find amazing frames, or diagnosing/treating eye conditions and diseases, our experienced team will identify and implement the best eye care solutions for you.
Eye Health Evaluation
With our years of experience in diagnosing and treating typical vision disorders such as nearsightedness, farsightedness, amblyopia, presbyopia, cataracts, macular degeneration, and diabetic retinopathy, Dr. Campbell, and Dr. Reis and their team are equipped to provide appropriate therapeutic medical eye care.
At the same time, the North Coast Eye Care team offers a wide array of high-quality eye care products at reasonable prices. Our patients never pay too much for the best quality in eyeglasses, contact lenses, sunglasses, progressive and bifocal lenses, and outstanding service.
Treatment of Eye Disease
If you are diagnosed with an eye disease, you want the best treatment available to get your eyes healthy again. At North Coast Eye Care, we stay current with best treatment practices. Based on your diagnosis, we may recommend a wide variety of approaches, including improved nutrition, prescription medicines, therapy and vision exercises, or medical procedures.
Good Eye Care Begins With A Yearly Eye Exam!
Although many do not realize it, the best way to protect your vision is with a yearly eye checkup. Even a basic eye exam can instantly detect many health-threatening conditions, such as tumors, vascular irregularities, and diabetes-related injury to the retina. At North Coast Eye Care, that basic checkup is brief and painless.
iLux
North Coast Eye Care is happy to be able to provide an in office treatment for dry eye! This treatment helps to get targeted heat and expression to your oil glands. Purchase your treatment today in our online store or call 360.797.1148 to schedule an appointment for consultation with our doctor to see if you are a good candidate!
Scleral Lens
North Coast Eye Care specializes in fitting custom Scleral Lenses. We work closely with Valley Contax to make sure that you have a successful fit, helping you with sharp vision and great comfort. Scleral lenses help correct vision for those who have Keratoconus, or other corneal conditions that make glasses or soft contacts not a viable option. This lens is also a good option for those with severe dry eye. Ask one of our doctors if you would be a good candidate at your next visit!
Click here to access our Scleral Lens Policy Agreement.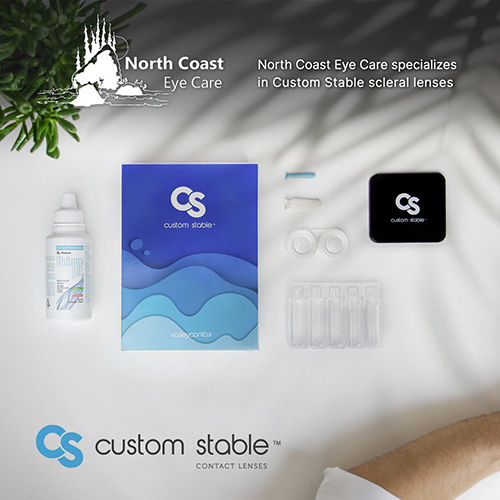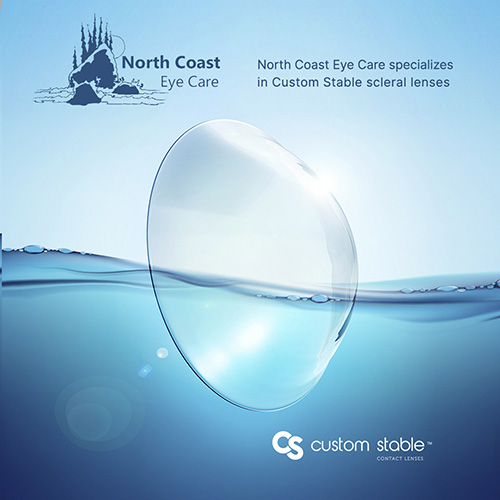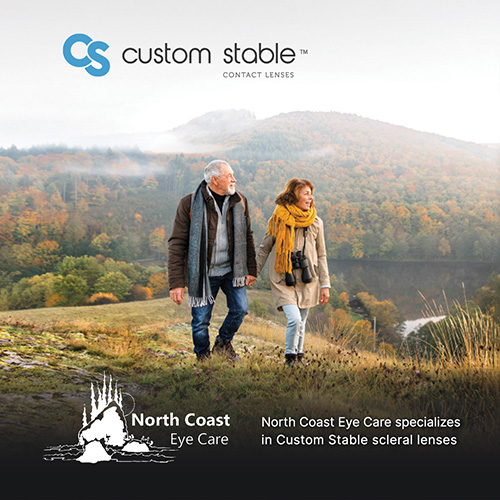 ---
Cataract Referral
Are you experiencing cloudy or blurry vision that is interfering with your daily activities? It could be a sign of cataracts, a common condition that affects many people as they age. At North Coast Eye Care, we specialize in the diagnosis and management of cataracts, and we work closely with renowned ophthalmology clinics like Pacific Cataract and Laser Institute (PCLI) and Northwest Eye Surgeons (NWES) to ensure that our patients receive the best possible care.
As a patient at North Coast Eye Care, you can expect a thorough evaluation of your vision and eye health to determine the extent of your cataracts and the best course of treatment. If surgery is needed, we will refer you to one of our trusted co-managing partners at PCLI or NWES for your procedure. Our team will provide you with comprehensive preoperative and postoperative care, including monitoring your healing progress and ensuring that you have all the information and resources you need for a successful recovery.
At North Coast Eye Care, we are committed to helping our patients achieve and maintain optimal eye health. If you're experiencing vision problems or have concerns about cataracts, we encourage you to schedule a consultation with our experienced team today. We're here to help you see the world clearly again.
Optical Coherence Tomography / OCT
When patients come to our office for eye exams, many times there is testing that we do to help us diagnose problems. One of these tests uses Optical Coherence Tomography or OCT. Pictures taken with our OCT machine are generated by light waves that reflect off the back of the eye or retina, creating images similar to what could be produced by a low-power microscope. The OCT also provides cross-sectional images. These images can display the various layers of the retina. This technology is also used to image the optic nerve, which is important in glaucoma treatment and management.
OCT is a non-invasive and no-contact test that doesn't require preparation from the patient. There is no exposure to radiation since the machine uses light to obtain the images. The patient sits in front of a machine, a couple of bright flashes like a normal camera flash go off, and then the photos can be viewed on the machine within a minute.
The OCT is an extremely valuable tool used to help diagnose and manage common retinal eye diseases such as macular degeneration, macular edema (fluid in the retina), and macular hole/epiretinal membranes. We use the initial OCT images to aid in making a definitive diagnosis. The OCT compares these initial images of your eye to a database of images of normal eyes matched to your age. In this way, the first OCT images we take can help point out potential issues if there is something that looks different from normal or average. Subsequent OCT images can then compare how you look now compared to how you looked initially. This can be very valuable in gauging how well treatment is working or if the problem is progressing.
The other common use of the OCT is for monitoring and managing glaucoma. We usually take initial images of the optic nerve, and the OCT can then compare these images to those of age-matched healthy control patients. The OCT will usually be repeated every year so we can follow any changes or progression over time.
The advent of OCT has revolutionized the way we evaluate the retina because we can now detect subtle findings not otherwise easily seen during clinical exams. This makes the OCT one of the most valuable tests we can do in our office.
LASIK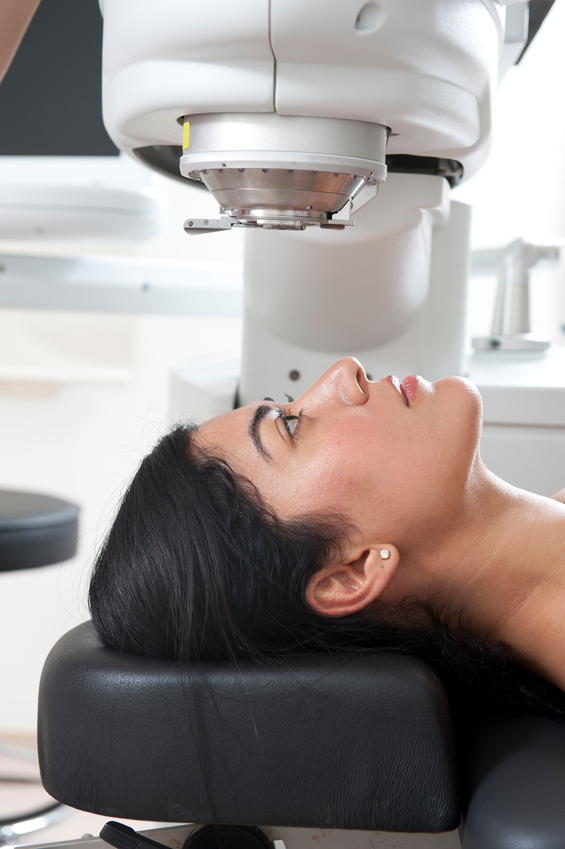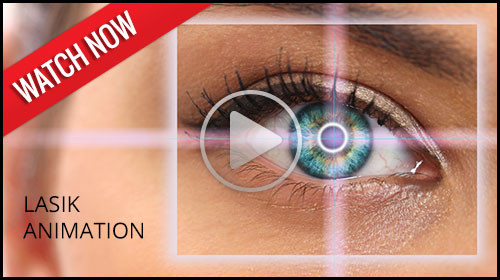 LASIK, a form of refractive surgery, is an popular option for vision correction, often eliminating the need to wear glasses or contact lenses. Simply put, LASIK reshapes the cornea with a laser.
Other surgical alternatives have become available. Among these is a technique called phakic IOL implantation which involves implanting a lens behind the cornea, but in front of the iris. With this new option, many of those who were too highly nearsighted for LASIK are now candidates for refractive surgery.
If you are interested in refractive surgery, please let us know. Refractive surgery is not to be taken lightly. Detailed testing is necessary to determine whether or not you are a good candidate for the surgery. If testing shows you to be a good candidate, we can help you choose the refractive surgeon who is most appropriate for your case. In addition, we provide post-operative care for refractive surgery.